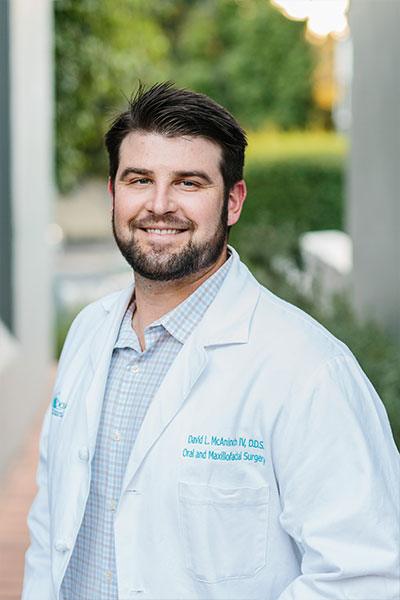 David L. McAninch IV, DDS
Dr. David McAninch was born and raised in Lompoc, CA. He graduated from
Cabrillo High School, and attended California Polytechnic State University
at San Luis Obispo for his Bachelor's degree. He then attended the
University of Southern California Ostrow School of Dentistry, where he
discovered his passion for Oral and Maxillofacial Surgery (OMS). Following
dental school, he completed his OMS residency at the University of the
Pacific, and the Alameda County Medical Center – Highland Hospital in
Oakland and San Francisco. Dr. McAninch also recently earned his
certification as a Diplomate from the American Board of Oral and
Maxillofacial Surgery. This achievement represents the highest distinction
within the specialty and that the surgeon has satisfied a rigorous
application and examination process.
As a native Lompocan, Dr. McAninch is thrilled be able to provide service
to the people in his hometown. He possesses a unique perspective on the
area and its residents, and enjoys seeing old friends and making new ones.
Dr. McAninch is a member of several professional affiliations, including:
– American Association of Oral and Maxillofacial Surgeons
– American Board of Oral and Maxillofacial Surgery
– Western Society of Oral and Maxillofacial Surgeons
– Oral and Facial Surgeons of California
– American Dental Association
– California Dental Association
– Santa Barbara/Ventura County dental society
Dr. McAninch met his wife, Elyse (also Dr. McAninch), in dental school. She
practices orthodontics on the Central Coast and they are both very excited
to be back in the Santa Barbara Country. They welcomed the arrival of their
first born, Bruce in 2017. In their spare time, they enjoy raising their son,
working on home renovation projects, their two dogs, golfing, and spending
time with family at Lake Nacimiento.
Please feel free to also view Dr. McAninch's CV by following the link below: